What People is Saying About Doctor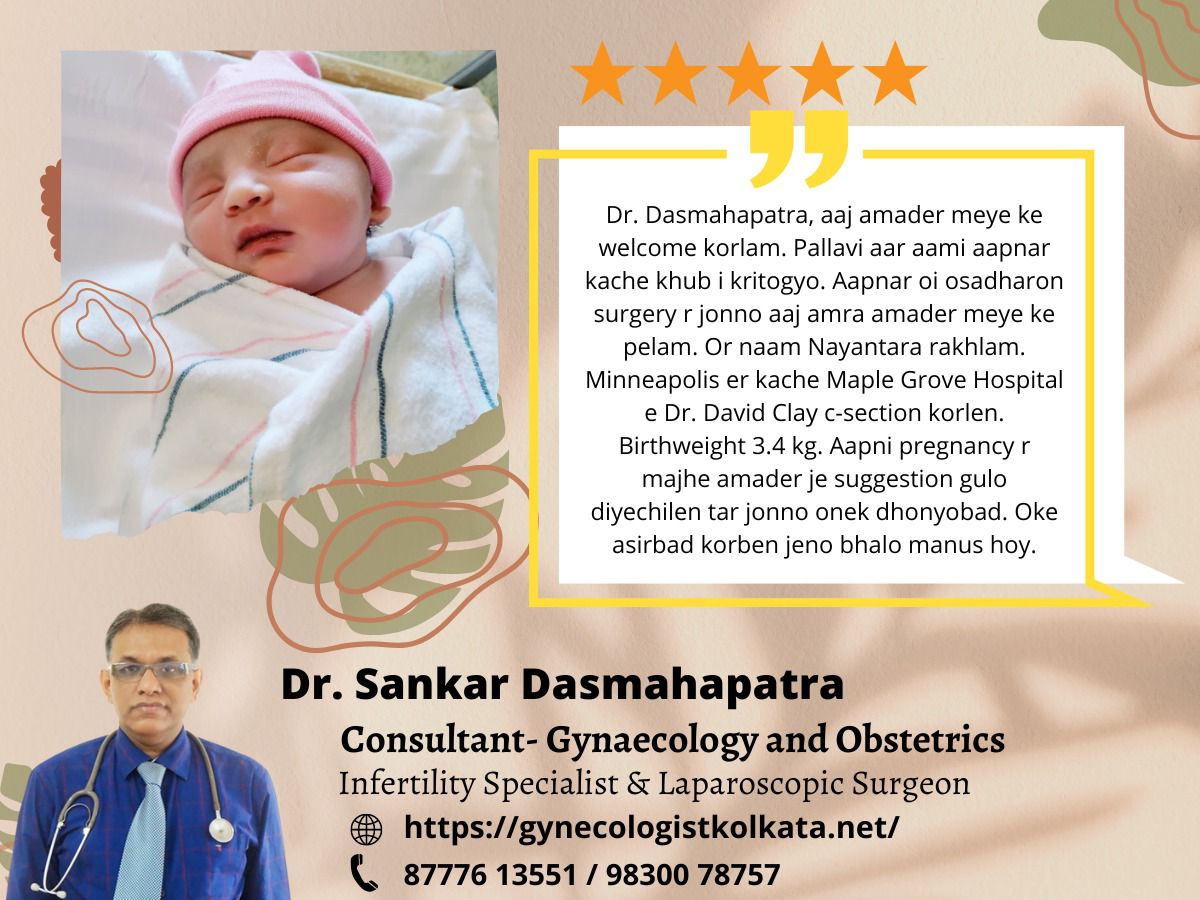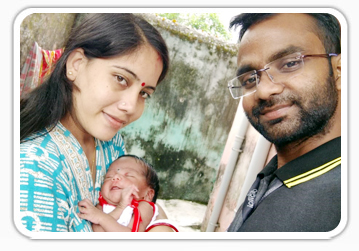 Patient Name - Asha Dutta
I am Tarani Ruhidas from Purulia sending you my heartfelt thankfulness for caring and comforting my wife Only because of your excellent treatment we're able to become parents.

My Wife, Asha Dutta was admitted In Uma Medical, Related Institute, Teghariya, Kolkata on dated 27.10.2019 for seeking the Laproscopy Surgery in the case of Endometriosis dialysis. and you've successfully done the Operation and give us the hope of becoming Parents.

You are truly an amazing doctor for clarifying all the possible options we had for a complicated case of my wife's pregnancy.

Now, on dated 13.09.2020 my wife successfully delivered a baby girl by scissoring.

No words are enough to appreciate the service you do. My heartiest gratitude to you, Thank you. We will meet you when we go to Calcutta ..... A million thanks to you Sir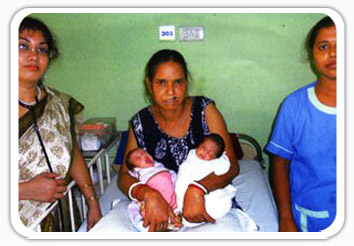 Mother Delivers Premature Twins at the Ripe Age of 44
Patient Name: Ananya Sana Baharampore , Mursidabad, West Bengal, India
Medical team: Dr. Sankar Das Mahapatra (Consultant-Gynae & Obs)
A couple was suffering from infertility for the last 15 years. The wife was treated for infertility and she eventually became pregnant through IVF technique at the ripe age of 44. During gestation she was suffering from Hypothyroid and Pregnancy induced Hypertension (PlH). At 29 weeks of pregnancy (roughly 7 months) she developed urine infection and subsequently went into labour. As it was a prolonged / obstructed abour and the babies were getting compromised, in utero – Emergency Caeserian section was done immediately to steer the mother and baby out of risk. Post operatively she developed broncho spasms along with severe hypertension and was subsequently put on elective ventilation under the supervision of the ICU team. She was shifted to ward once she was in a stable condition.

1st baby was a boy weighing 1kg. He was pale, with no respiratory effort and slow heart rate and needed extensive resuscitation. He was put on ventilator. He was taken off ventilator after 48 hours and was started on CPAP machine and gradually oxygen was reduced. His gut was very immature and he was given parenteral nutrition through central line which was placed from elbow up to his heart. For the first few days his blood sugar, serum Sodium, Potassium and Calcium levels were all abnormal needing correction and close monitoring. Feeding was established very slowly to prevent the dreaded complication namely necrotizing enterocolitis. His brain was so immature that he often forgot to breathe (Apnoea) and became blue. To prevent this, he was administered a special injection which is very similar to Coffee. Despite all this, he had to be closely monitored and often physically stimulated to keep him breathing appropriately. He also received antibiotics. He developed significant jaundice and received phototherapy. In spite of so premature birth, nutritional aspect was taken care of appropriately and he did not lose weight, which was quite remarkable. At the time of discharge his weight was around 1.5 kg.

2nd baby was a girl weighing 1.05 Kg and we ran a similar course for her in the NICU. Both of them were handed over to their mother at around 3 weeks of life, breast feeding and gaining weight. All three of them were discharged from hospital in stable condition.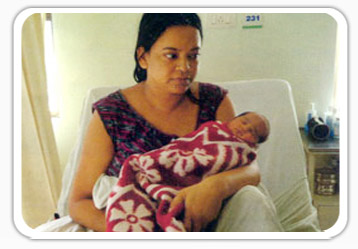 Mother Combats Multiple Complications and Delivers a Healthy baby
Patient Name: Moumita Dey Habra, North 24 Parganas India, Age: 40 yrs
Medical team: Dr. Sankar Das Mahapatra (Consultant-Gynae & Obs), & his team
A 40 yr old female, came to our emergency in March, 2012, with respiratory distress due to left ventricular failure (LVF) and hypertension, along with 18 weeks of pregnancy. She had a known case of Rheumatic heart disease (RHD) with systemic hypertension. She was treated in ICU by our medical team and thorough investigations were done. She was also referred to our endocrinologist for stabilizing her thyroid level. Her complete hemogram, LFT & renal function parameters were quite normal. After bringing her respiratory distress under control she was discharged in stable condition after a week. Thereafter, she was referred to our High risk pregnancy clinic.

Her first pregnancy was uneventful, delivered by Caesarean Section, 11 yrs back. The first trimester of her second pregnancy was also normal until she developed LVF during 18th week of pregnancy. She was very compliant and regularly visited our clinic for proper monitoring of her RHD and pregnancy. Serial ultrasound scans were performed to determine adequate foetal growth and it was found that her left adnexal mass was gradually increasing in size. Her last scan during 30th week indicated size of left adnexal mass as 7.2cm x 4.7cm with low level internal echoes and calcification suggestive of dermoid.

Her antenatal progress was satisfactory even with mild Pulmonary Artery Hypertension (PAH) until at 36th week she developed acute LVF and was admitted in our ICU with severe respiratory distress. On admission she had pallor with generalized edema and very high BP. CTG monitoring confirmed foetal bradycardia (slow heart rate). She was not in labour but we immediately decided to perform the emergency caesarean Section after initial resuscitation of the mother. A live female baby of 3 kg was delivered with one episode of apnoea after birth so it was immediately transferred to NICU for proper resuscitation. Our Neonatal team took care of the baby till the mother fully recuperated. Along with caesarean section, left sided ovarian cystectomy and b/l tubal ligation were performed. The specimen of left ovarian mass was sent for histopathological examination. Post surgery the mother was kept on elective ventilation. Her vitals were meticulously monitored by our intensive care team. Gradually the ventilator support was removed and she was shifted to the ward. The baby and mother were finally discharged after a week in a stable condition.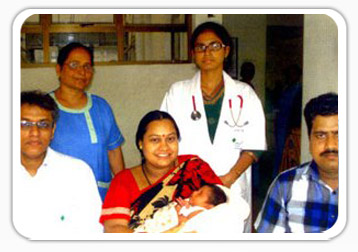 Mother Suffering from Uncontrolled Gestational Diabetes delivers a Healthy Baby, a typical case of High Risk Pregnancy
Patient Name: Arunima Saha, Age: 31 yrs
Medical Team: Dr. Sankar Das Mahapatra (Consultant-Gynae & Obs), & his team in Narayana Multispeciality Hospital Barasat
A 31 yr old pregnant housewife was brought to the Emergency Dept. of our hospital in the year 2010, with no foetal movements. She had undergone antenatal check up in some other clinic. USG revealed Intrauterine Foetal Death (IUFD) of the baby and it was delivered vaginally. The lady was found to be overtly diabetic with a fasting blood sugar level of 250 mg/dl and a post-prandial blood sugar level of 385 mg/dl. She was discharged after bringing her diabetes under control.

She came to the OPD of our hospital for follow up, again with very high levels of sugar. She was obese weighing 89 kg and BMI>40. She was properly counselled for reduction of body weight and strict control of diabetes for safe delivery of a healthy baby in future. She was prescribed daily dose of Folic acid along with oral hypoglycemics. She was also educated that gestational diabetes is associated with multiple congenital anomalies of the foetus and sudden unexplained foetal death. Next pregnancy was advised after 2 years but the lady again conceived after 1 year.

She was treated for diabetes in our High risk pregnancy clinic, to keep her euglycemic throughout the first trimester of her pregnancy and minimize the chances of foetal congenital anomaly. Quadruple marker test and serial foetal scan was performed to rule out congenital anomaly. The mother was very compliant and she regularly attended antenatal clinics. She developed polyhydramnios in the second trimester. Foetal anomaly scan to rule out any spinal defect and foetal echocardiography to rule out any cardiac anomaly were performed. As the patient was obese, oral drugs were not totally effective in controlling diabetes and she required high doses of insulin. In order to do so, she was admitted to the hospital during 34th week of her pregnancy. Strict CBG monitoring and foetal monitoring by CTG was regularly done as our expert team was cautious about sudden IUFD in this pregnancy profile. At around 37th week, one Sunday she complained of pain in abdomen and slow foetal movements. She was rushed to the OT for emergency caesarean section and she delivered a healthy baby of 3 kg. Our Neonatal team took care of the baby. Post delivery, maternal blood sugar level was within normal limits and no insulin was required. Both mother and child were discharged from the hospital in stable condition after five days. Her post natal follow up confirmed fasting and post prandial blood sugar level to be within normal limits. It is obvious that a healthy baby can be delivered in high risk cases too, if the expecting mother gets registered at a safe and well equipped healthcare centre from very early stages of pregnancy or even before.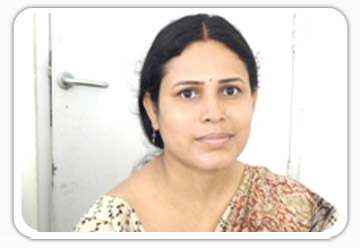 Patient Name - Aparna Mondal
My name is Mrs Aparna Mondal. I live in Barasat. I am a great fan of Dr Dasmahapatra. For the last 5 years i have been suffering for infertility. I had great pressure from my family & from outside world regarding infertility. By profession i am a school teacher. After repeted failed Ivf Treatment I Consultated Dr Dasmahapatra In Jubilant Kalpataru Hospital( Narayana Multispeciality Hospital) after a long period of treatment i conceived with a twin baby. During period of treatment I have passed many sleepless nights. One day my husband & me decided to terminate the pregnancy. I become a psychiatric patients. I get admitted in Kalpataru hospital for a long time . at that time of my crisis every day Dr Dasmahapatra come to attend me & listen to my all talks . Every times he assures me that you have no problems .

You will be okay very soon . He is very sympathetic to his patients. At the end of my pregnancy one of my twin baby died inside my womb. Dr. Mahapatra urgently done emergency caesarean section.

In Narayana Multispeciality Hospital in Barasat.

He saved my life & of my only Baby that is alive. He is really a good gynaecologist doctor available in Barasat Kolkata . I am very lucky that Dr like Dasmahapatra treated me. I never forget him in my life. I send all my friends & relatives to Dr. Mahapatra. He is very good surgeon who can perform emergency caesarean section.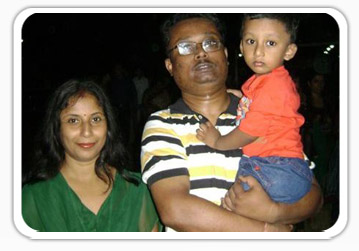 Patient Name - Mrs. Amropalli Gupta
I am really frustrated regarding my treatment in infertility problems. I & my husband consulted almost all the doctors in kalyani . everybody advised me for test tube baby & referred me in different centers in Kolkata. They told me that i had bilateral tubal block so that i have to go for IVF. Some of my friends suggest the name of Dr sankar dasmahapatra. I contacted him in his vip road chamber .

He told me that though you have done laparoscopy before inspite of that he will do a laparoscopy before IVF BECAUSE IT IS COSTLY PROCEDURE . HE had done diagnostic laparoscopy & hysteroscopy with bilateral hysteroscopic tubal cannulation.

After laparoscopy & hysteroscopy he told me that he had opened the both tubes. I thank god & dr mahapatra that god send me to you . After two months of my surgery i got pregnant.

Dr dasmahapatra is very careing & always tlak with me in my need. He is really a amazing doctor . He had delivered my baby in charnock hospital in Kolkata. I also thank to dr (mrs) sraboni dasmahapatra who was my anaesthetist during my operation. Now i am living in kalyani very happily with my husband & son. Thanks dr dasmahapatra . He is god to me & my family thanks dr das mahapatra you save from social humiliation.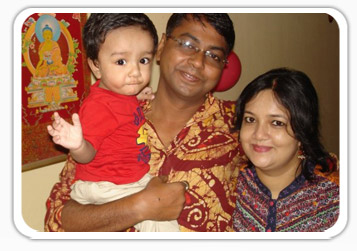 Patient Name - Mrs. Brototi Deb
There are not enough tissues in the world to combat the tears which come while you are like a ship drifting aimlessly in the sea without an anchor more precisely defined goals.You will go wherever the tide decides to take you.

It was exactly the similar situation for both me and my husband during my struggle period to attain motherhood. It was during the year 2009 in the month of June, like any other married couple in this world; we also wanted to have our own child. But life was lifeless, reluctant and we were completely on stuck.

We consulted our family physician and on his guidance we finally found Dr. Sankar Das Mahapatra, God Father of our life. The very first day we met him even not knowing him much, with his gracious presence and pleasant personality, he earned our total confidence and complete respect. Once he started talking to us in his very own informally formal style, he made us feel much more composed and comfortable so that we could open up and voice our problems.

After a thorough check-up, he guided us clinically and clinical investigation diagnosed my problem as 'Infertility'. Immediately my treatment was started under his clinical and careful supervision. I was under his treatment from June, 2009 to October, 2011 (till I attained motherhood) and religiously followed all his guidance.

Finally, completed a dreadful journey and his treatment worked miraculously, I conceived during October, 2011. Even then, some challenge life had stored in for us. During my gestational period at the six months of my pregnancy, I had a severe complication which landed me in Nursing Home for six days. Finally recovered and safely landed at home with the grace of God and with the magical treatment of my living God – Dr. Mahapatra.

Finally me and my husband was blessed with a boy child, our bundles of joy on 25th June, 2012 (Monday) at UMRI, Baguihati, Kolkata under careful and clinical supervision of Dr. Sankar Das Mahapatra.

In a nutshell, during my course of treatment, Dr. Mahapatra never allowed us to lose hope. He always sincerely stood beside us and encouraged us with full of hope, courage, support, strength and bliss.

It was a tremendous journey for us and no less than winning a battle both physically and mentally but this would not have been won by us without the benediction of Almighty and of course his replica on earth – Dr. Sankar Das Mahapatra. Me, my husband Nabarun and our entire family are ever grateful and indebted to him.

THANK YOU VERY MUCH SIR, THANKS FOR EVERY THING.
YOU DID FOR US. YOU MADE OUR LIFE HAPPY.

Sincere Regards,
Brototi (Neelava) Nabarun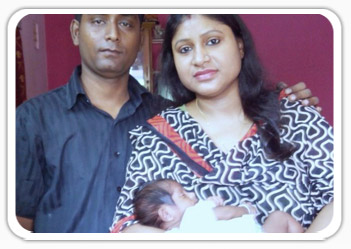 Patient Name - Mrs. Debsena Seal
It is a great privilege for me for writing something about Dr dasmahapatra . I stayed near Teghoria vip road.kolkata . First i consulted with dr dasmahapatra in 1st trimester of pregnancy. We are very happy that our first baby is coming. It is great disppoinment for me . with pregnancy there is a huge chocolate cysts on the right side in lower abdomen by diagnosed ultrasonography. Then i consulted with many doctor .everybody told me that i have to aborted the baby. Only dr dasmahapatra told me that he will do the case by laparoscopically during pregnancy. He had done the surgery in uma medical related institute.

He discharged me 2 days after the operation. At last i have delivered a healthy baby , thank to dr dasmahapatra& his team. Anybody have problems like me consult with dr dasmahapatra. He is a world class laparoscopic surgeon. Really we are very happy now with our baby.
Patient Name - Mrs. Rina Maity
Dr. Mahapatra is god to me. I really feel better when I thanked with Dr. Mahapatra very charming personality. I live in Jhargram Midnapore. I have no problems in my pregnancy during my antenatal period . My doctor routinely advised me ultrasound. IN ULTRASOUND it was detected that i have pregnancy with large ovarian cysts. Then my doctor told us that you consult to renowned gynaecologist in Kolkata. We had decided to consult with Dr Sankar Dasmahapatra in Kolkata.

He advised that ovarian cysts operation will be done 4th month of pregnancy. After a few days I had severe pain abdomen . Dr. Mahapatra had done laparoscopy during pregnancy . He provide us a DVD of the procedure. My husband & I had watched the DVD what a fantastic & risky operation done by him. He discovered an ectopic pregnancy with my intrauterine pregnancy. MY RECOVERY WAS VERY GOOD AT THAT TIME. I had been discharged from the hospital 48 hours after delivery. My pregnancy continues till term . then I delivered a healthy child at term. Dr. Mahapatra is best laparoscopic surgeon in Kolkata. He had taken a great risk in doing laparoscopic surgery during pregnancy. Now I am totally cured by magical surgical hand of Dr Sankar Dasmahapatra.
Patient Name - Mrs. Smriti Mukherjee
I met Dr. Dasmahapatra in the year 2005. My family physician refereed me to Dr. Dasmahapatra. During this time I had severe pain abdomen during the time of menstruation. It is practically unbearable.

I am in the home for 5 days during these times. It is actually night mare on menstruation days. Dr. Dasmahapatra had diagnosed it endometriosis (Chocolate Cysts of Ovary) at that time I was unmarried.

Dr. Dasmahapatra had operated upon me at that time by laparoscopic method. Is really magic. He discharged me on the next day of operation. He treated me in the operative period . as I am a bit elderly Dr. Mahapatra advised me to get marry.

After my marriage i follow the advice of Dr. Mahapatra . Luckly I conceived inspite of severe endometriosis. I delivered a beautiful baby boy under dr mahapatras care in Columbia asia hospital in saltlake city Kolkata. Thanks to dr dasmahapatra & his teal for their kind effort. Dr mahapattra is very good in infertilility & laparoscopic surgery in Kolkata. Any body can contact dr mahapatra with endometriosis & in fertility.
Patient Name - Mrs. Jhumur Ghosh
One of my friends from barasat referred me to Dr. Sankar Dasmahapatra . As I stayed in dumdum I contacted dr mahapatra in Millennium clinic Teghoria Vip Road Chamber

For A Long Time I Have Infertility Problems . I Visited Many Gynaecologists In My Locality. After Meeting With Dr. Mahapatra He Counselled Us Very Well & Discussed With Us Regarding Basic Problems In Infertility In His Laptop. After All Investigations He Told That I Had A Small Chocolate Cyst Sin Ovary ( Endoetrioma) Except All Investigations Are Normal. I Had Under Gone Laparoscopic Surgery For Endometriosis In Charnock Hospital Kolkata. After Operation He Provide Us A DVD Of The Operation. Both My Husband & Me Watch The Procedure In Detail. After That In Follow Up Visit He Give Me Some Ovulation Stimulating Agents & Some Injections. After Three Months I Conceived Normally. Really He Is A Very Fine & Sophisticated Laparoscopic Surgeon. I Recommend Any Body With Endometriosis Problems Or Chocolate Cysts If Ovary Problems With Infertility Consult With Dr. Dasmahapatra. Dr. Sankar DasmahapatraAlso Told Us About Recurrence In Endometriosis But Still I Am Ok. He Is Very Expert In Endometriosis Treatment & Surgery In Kolkata.Thanks Dr. Sankar Dasmahapatra

Giving me monthly relief of Pain & a Baby to Me .
Really he is very good in Laparoscopic Surgery in Kolkata
Mrs. Jhumur Ghosh, Dumdum,Kolkata. West Bengal, 2011